Home automation has dominated conversations over the last few years about efficiency, comfort, and cost savings. While it might sound scary to people who don't always embrace new technology, automated comfort can actually simplify your life and reduce anxiety. So how do you automate your own home comfort in your Charlotte, North Carolina, house?
Research Smart Thermostats
Some of the best thermostats on the market today feature smart technology that allows you to automate some or all of the HVAC processes in your home. The Carrier Infinity Touch thermostat, for instance, features a large, clear touchscreen that displays the temperature inside your home as well as other important data. You can program it differently for every day of the week and add separate vacation settings. It's also Wi-Fi-enabled, which means you can download the associated app and control your thermostat even when you're not home.
You might also like the Honeywell Prestige IAQ, which Honeywell designed to help you enhance the indoor air quality (IAQ) in your home. Not only will it control your air conditioner, heat pump, or furnace, but you can also use it to gain control over your whole-home dehumidifier, ventilation system, or humidifier. Harness these systems to keep your home as comfortable and efficient as possible.
When comparing smart thermostats, take note of the features that most interest you. The more features you use, the more valuable the thermostat becomes, which offsets the unit and installation costs. Additionally, check with one of our technicians to make sure the thermostat you like is compatible with your air conditioner, furnace, heat pump, or other HVAC units.
Choose a Good Location
Where you have your programmable thermostat installed can impact its performance. For instance, if it's installed on a wall opposite a window, it will think your indoor temperature is warmer than reality, so your air conditioner might run more often than necessary. You don't want to put your thermostat near a heating and cooling vent, a stove or oven, a bathroom, or an exterior door because these locations can compromise its ability to accurately read temperatures.
Get Professional Installation
Once you decide on a smart thermostat, one of our expert technicians will come to your home to install it for you. Professional installation ensures that all the components get connected properly. If you attempt to do it yourself, you could damage the device or even cause injury to yourself. Never attempt to work with your home's HVAC or electrical system unless you're professionally trained.
We'll not only install your device, but show you how to use it properly. From programming temperature changes in the home to accessing data about your house's performance, you'll want to know how each feature works. If you have questions later, just give us a call so we can answer them.
Use Your Thermostat
A programmable or smart thermostat won't do you any good if you neglect its features. For instance, maybe you're used to manually changing the temperature every morning when you get up, but you can skip that chore now. Set the temperature and the time. That way, you don't have to worry about forgetting to make the change on a hectic morning.
Many smart thermostats also learn from your behavior and lifestyle. They collect data to determine your preferred temperatures, and many keep track of the outside temperature to decide how your air conditioner should run. Of course, you can always override those changes based on personal preferences.
Pay Attention to Alerts
Many automated HVAC systems will alert you when it's time to change the AC filter or perform other regular maintenance. This can come in handy when you lead a busy life. Pay attention to these alerts because neglecting maintenance could shorten your HVAC system's lifespan and even cause system malfunction. For instance, a clogged air filter will prevent air flow into and out of your air conditioner.
Automating your home comfort can make your summers and winters more enjoyable. For professional thermostat installation or other HVAC services, call Ross & Witmer today at 704-392-6188 to schedule your appointment with us.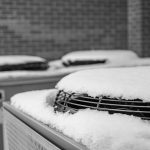 What Is Attic Encapsulation? Prev post